I had a sewing machine similar to this one when I was 10.
Did I ever mention that I used to love making Barbie and Cindy clothes when I was a little girl? I had my own little girls sewing machine that was bought by my parents on a trip to Italy when I was 10. Then I hit puberty, boys were way more interesting than dolls and sewing.... fast track almost 30 years later and I reaquainted myself with sewing again when I got married in 2009. For the wedding I made the ring pillow and the bridesmaids' purse frame bags (will try to get a photo of the bags from one of the bridesmaids). I had a brief obsession with making bags to sell but then sewing got put on hold again while life was happening and after the birth of Scarlett the desire to sew hit me again. I bought a stash of fabrics (
blogged here
) and downloaded a few free patterns but I lost everything when my hard drive went caput before Xmas (really should back up).
Cloud 9 Quilt in a Day
I tried to make myself a wrap skirt but it's sitting unfinished next to the sewing machine, I must must finish it (all that's left is the waistband and hem)!! My latest obsession is quilting. I think this type of sewing is right up my alley. I really don't think I'm a dressmaker, garments are too complex. Plus I love the creative freedom quilting provides. I mentioned my desire to learn quilting to my husband so he thoughtfully bought me a quilting book for Xmas. I thought I'd start with Cloud 9's Quilt in a Day blogged
here
. With that in mind, there are a couple of new babies arriving in the family in a couple of weeks. We don't know the sex of either baby yet so I'd rather wait until they are born to choose gender appropriate fabric.
I also love the idea of buying charm packs and jelly rolls to make quilting simpler and faster. I really want to have a go at a log cabin quilt, a nine patch block quilt and a hexagon quilt. I have been browsing the web and my brain is getting to information overload stage. Thanks to RetroMummy for posting a few great video tutorials, these have really helped me understand the whole quilting process. I'm totally in love with Denyse Schmidt's Single Girl quilt and I'm in two minds about Tula Pink's Kiss Kiss quilt, maybe it's the colour combination that I'm not sure about (too much green and gold). I would love to see whether I prefer it in the Mist palette.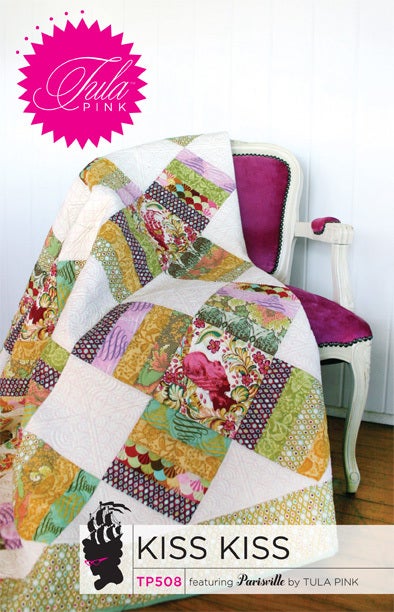 This week I received a $40 voucher from Spotlight which was great timing. I went on my own early on Saturday morning and bought a cutting mat, an OLFA rotary cutter and a quilt ruler. I also bought a few metres of white homespun. When it came to batting I was confused and with no one in the store to give me advice I'm leaving that purchase until after I have done some more research. I would hate to go to all the trouble of making an heirloom only to use a batting that would not wear very well. I would appreciate hearing your comments on batting.
So there's a brain dump on some quilting plans. My biggest hurdle now is making time for craft!!